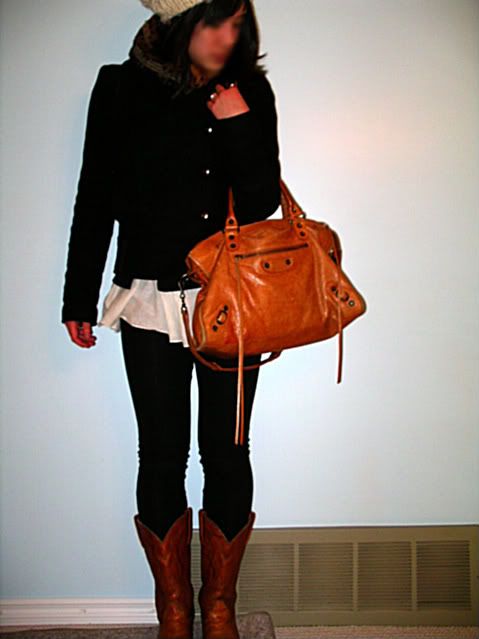 Jacket- Urban Behaviour, Top- Industry (from Bamboo Ballroom), Leggings- AA, Bag- Balenciaga, Boots- Vintage
,
Closeup of the accessories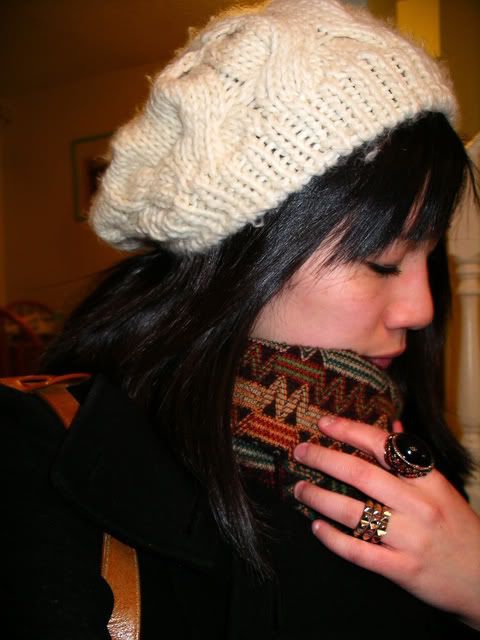 Beret- F21, Scarf-Missoni, Rings- F21
The prefered uniform of a university student consists mainly of an Abercrombie and Fitch sweater and jeans tucked into UGGS. Sure, that looks okay but I hate looking like everyone else. I went thrifting and ended up with a sweet pair of cowboy boots. To my surprise, they were Frye and were already broken in. I was so excited to wear them, and then the unthinkable happened. It snowed. I was totally bummed, but this is Edmonton and you learn to deal with the weather and dress how you want to dress anyway. Like -30C weather and a little snow is going to stop me from wearing leggings. It should have though, because I froze my butt off waiting for the bus..I did, however, get compliments :) But accessories are your best friend in this type of weather, so I opted for a cute beret to keep my head warm and a Missoni scarf.