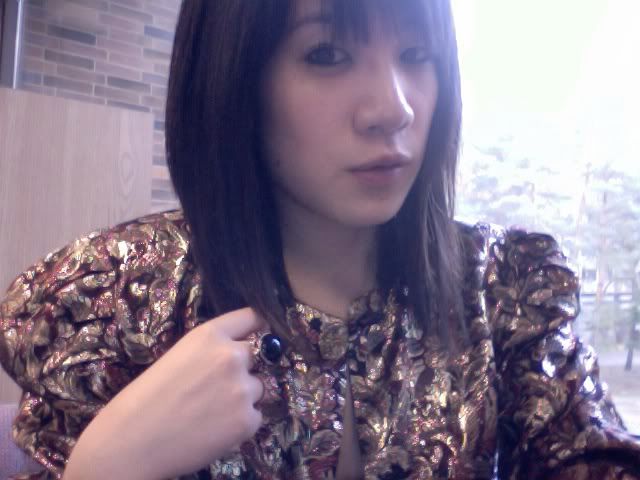 Thrifted Jacket, Rings from F21
Sorry for the long hiatus. School has been kicking me in the ass, got a root canal last week, and this whole H1N1 epidemic is making me PARANOID. Like everywhere I go, there seems to be someone coughing, sneezing, and it's just making it that much harder for me to believe that I won't contract it. I am well equipped though with my mask and hand sanitizer, which are both coming with me when I go to Seattle this Saturday! I am excited to get outta here.
I wore this jacket to school on Saturday and ran into my friend.
B: so are you doing anything for halloween?
A: yeah.
B: [points to jacket] yeah, I can tell.
A: ya. ha ha!
WTF BRIAN this wasn't my halloween costume. The shoulder pads make me look like Shakespeare but the brocade reminds me of Balenciaga Spring '08, which is why I love it so much! Volume baby. Oh and yes I got my bangs cut. I asked Santa for an early christmas present (a camera) so hopefully I can stop taking pictures on my MacBook. Sorry!